TRY OUR NEW SEASONING SALTS!
Our NEW Salty Savory Vibes you can add to ANYTHING!
POWERFUL GOODNESS FOR YOUR TASTE BUDS
Tossed in your travel bag and taken straight from the dropper, Kung Fu Tonic is the tasty HIGH VIBRATIONAL STAPLE to keep you going strong all year long.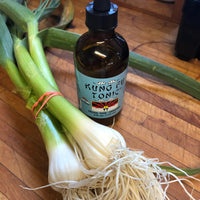 DELICIOUS IMMUNE SUPPORT
The doctor of the future will give
no medicine, but will interest his
patients in the care of the human 
frame, in diet and in the cause and 
prevention of disease.
-THOMAS EDISON
LEARN MORE ABOUT KFT
KIND WORDS FROM LOYAL ♥ KFT ♥ LOVERS
@kungfutonic I love Kung Fu Tonic

KELLY SLATER
Kung Fu Tonic has all of my favorite immune boosting ingredients

DR. LOREN RICCIO
We have the PNW covered with vegan, rawsome goodness. This powerful @kungfutonic is an everyday super food/medicine to kick all those nasty flu bugs to the curb and also just makes you feel like a ninja.

@momehboutique
Finished my big bottle! Ready for a refill. Good stuff braddahs.

@redfeathersfarm
We absolutely love this. It's drinkable. Great as a salad dressing.

@redfeathersfarm
True HEALTHCARE REFORM starts in your kitchen.
Kung Fu Tonic is a powerful, hand-crafted FOOD for super immune system support. It bolsters strong human functioning for body and soul. Kung Fu Tonic Original is safe and recommended for even the smallest ninja. 
RAW. VEGAN. AWESOME.